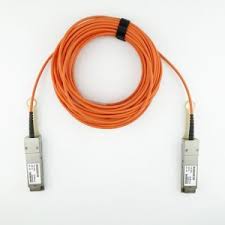 Acumen Research and Consulting added Most up-to-date research on "Global Active Optical Cables Market: Global Industry Size, Share, Trends and Forecast, 2018 - 2026" to its huge collection of research reports.
Introduction:
An active optical cable, abbreviated as AOC, is a wiring technology which uses optical fiber between connectors for improving cable's performance. AOC uses electrical-to-optical conversion at the end of cables to improve its speed and distance performance without compromising on its compatibility with the standard electrical interfaces. The ability of AOC to substitute or used as an alternative to copper cables has led to the rise in demand for AOCs. The growth is further attributed by various benefits offered by AOCs such as low power consumption and small bend radius that results in easy installation and lighter weight. With the help of various protocols, applications of AOCs have increased from advanced computers to networking & storage. Additionally, these cables rely on several protocols for data transmission including USB, InfiniBand and Ethernet.
Download Table of Content: https://www.acumenresearchandconsulting.com/tentative-table-of-content/166
Market Classification and Overview:

Increased processor speed and high demand for greater bandwidth are few key factors driving The growth of Active Optical Cables Market. For cloud based applications, online gaming, audio & video services and Community Antenna Television (CATV), hi-speed data services are required that are enabled by the use of these cables. Also, the improvements in technology related to fiber optics have propelled the market growth. However, the high initial cost of investment for AOCs and the replacement threat from wireless broadband and copper cables are restricting the market growth. The demand for smaller cables and inventive paths by the consumers are also bolstering the market demand for AOCs. As compared to copper cables, the optical fibers are longer, thinner, stronger and lighter.
Request Customization: https://www.acumenresearchandconsulting.com/request-customization/166

The AOCs market is segmented by protocol, form factor, end-user applications and geography. On the basis of protocol, the market is segmented into InfiniBand, Ethernet, display port, serial-attached SCSI, High-Definition Multimedia Interface (HDMI), PCI express, USB, thunderbolt and others. The form factor segments include Quad Small Form-factor Pluggable (QSFP), small form-factor pluggable (SFP), CXP, Cx4, CDFP, CFP and others. Furthermore, the end-user applications of AOCs include data center, high-performance computing, consumer electronics, personal computing, telecommunication and others. The geography segment is classified into Europe, North America, Asia Pacific, Middle East, Africa and Latin America. The InfiniBand protocol is the most used protocol and the market for this segment is expected to grow significantly in coming years. InfiniBand helps in improving the quality of service and is scalable and highly efficient as compared to other protocols. The use of InfiniBand in commercial applications is influencing the market positively. Also, data center application is anticipated to dominate the market among all other end-user segments. The growth of this segment is attributed by the rising demand of data centers across the globe. Moreover, the data center requires a wide range of fiber optic modules for connecting switches, servers and storage that is achieved through AOCs.
Inquiry Before Buying: https://www.acumenresearchandconsulting.com/inquiry-before-buying/166
Market Participants:
Quad Small Form-factor Pluggable (QSFP), under form factor segment is the most used form-factor owing to the increasing use of QSFB in data centers. QSFP AOCs facilitates high performance, long reach and energy- efficiency. Whereas, CDFP is growing at a higher pace due to its capability of consuming low power and high data rate transmission. Among various geographies, North America is leading the AOCs market and Asia Pacific is projected to show high growth attributed by the increasing demand from China and other developing countries. The AOC market in Asia Pacific is in its developing stage and offers high growth potential. Some of the leading players in the AOCs market include Finisar Corporation, Avago Technologies Ltd., Molex Incorporated, EMCORE Corporation, The Siemon Company, TE Connectivity Ltd., CI Electronics, 3M Company, Shenzhen Gigalight Technology Co., Ltd. and Sumitomo Electric Industries, Ltd. among others.
Buy Now This Report From Here: https://www.acumenresearchandconsulting.com/buy-now/0/166
About Us
Acumen Research and Consulting (ARC) is a global provider of market intelligence and consulting services to information technology, investment, telecommunication, manufacturing, and consumer technology markets. ARC helps investment communities, IT professionals, and business executives to make fact based decisions on technology purchases and develop firm growth strategies to sustain market competition. With the team size of 100+ Analysts and collective industry experience of more than 200 years, Acumen Research and Consulting assures to deliver a combination of industry knowledge along with global and country level expertise.
Contact -
Frank Wilson
Sales Manager | Acumen Research and Consulting
Email: [email protected]
Ph - USA +1 716-240-831
Asia-Pacific +912065600384